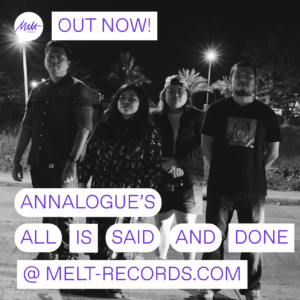 After years in the making, Cagayan de Oro-based rock band Annalogue's first EP "All Is Said And Done" is now out, under Cebu-based independent label Melt Records. The EP is available in CD format via the Melt Records Online Store and for digital download and streaming on Bandcamp, Spotify, Apple Music, and more.
"It's been a long time coming", the band says on getting to this release. "We've had to weather through many things individually and as a group. In the end, we just let the chips fall where they may."
Annalogue is composed of Arkyoo Quirante (vocals, synth), Ira Quirante (guitars), Tatski Lagrosa (bass), and Kara Nery (drums). The band started performing and writing music seven years ago and quickly gained a following in the Cagayan de Oro music scene. Before this EP, the band had previously released two singles, Solaris (self-released, 2018) and Lest We Forget (Melt Records, 2019). Both tracks are also included in this EP.
Stream and purchase digital and CD copies of All Is Said And Done through the link!